WHEREVER YOU LOOK, DIAMOND LOGIC® IS PROGRAMMED TO SUCCEED.
Whether you've got a single truck or a whole fleet, Diamond Logic brings the brainpower, flexibility and convenience to suit almost any application. With nearly 200 available factory body integration and driver efficiency features, plus the ability to custom-program virtually any type of need, Diamond Logic brings a new level of safety and precision to the jobsite.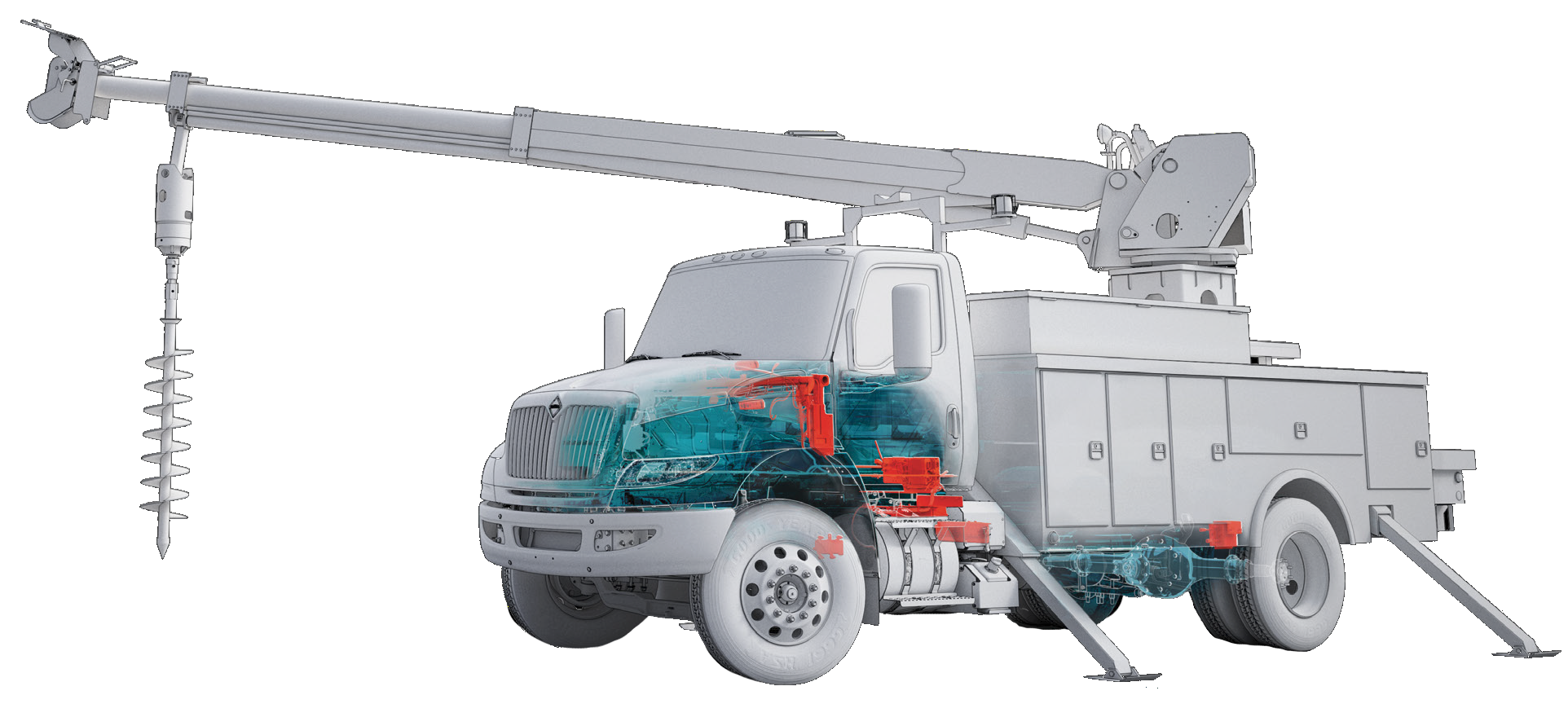 Body Controller
Heart of the Diamond Logic System. Performs all body integration software execution to maximize safety, performance and ease of equipment installation
Switch Packs
All switches are controlled via 6 wires
Blinking switch indicators provide equipment status
Switches can be moved without moving wiring
Up to seven colors of lights can be used
PTO (Power Take Off)
Engagement and disengagement based on chassis and body conditions (engine speed, road speed, outrigger deployed before boom can raise, park brake set, transmission in neutral, etc.)
Certain data links can be used as an interlock including RPM, MPH, Park Brake and gear position
Engine speed can be controlled (in most cases) while using the PTO with no additional wiring needed
Remote Power Modules
All 12-volt outputs are automatically fused (auto-resettable) with solid state technology
Outriggers
Diamond Logic can sense when they are not properly stowed and will illuminate an indicator light in the switch packs while sounding an audible alarm
Differential Lock
Diamond Logic can control when the axle differential locks and unlocks depending on road speed, protecting the driveline from damage due to excessive speeds in a locked position
Work Light
Diamond Logic can automatically turn on or off the light based on chassis functions (for example: rear-facing light could be programed to turn on any time the transmission is in reverse, adding additional lighting)
Automatically shut off the light based on a set forward speed
Boom Hydraulics
Diamond Logic can sense when they are not properly stowed and will illuminate an indicator light in the switch packs with an audible alarm
Pre-Trip Light Inspections
Driver can press a button and all the exterior lights will blink in sequence, allowing daily DOT light inspection with just one person
Solenoid Air Packs
Air can be turned on with a switch in the dash or controlled based on chassis and/or body functions (for example: tailgate air lock in dump applications can be programmed to not unlock unless the truck is driving below a certain speed)
---
WAYS TO USE DIAMOND LOGIC®
Order from nearly 200 preprogrammed tasks
Work with International® to create custom tasks
International can train and certify your technicians on Diamond Logic Builder software to independently program new tasks
DIAMOND LOGIC BUILDER
International customers have the ability to write custom logic so Diamond Logic can be easily expanded, configured and updated in the field to meet specific application requirements.
SAFETY AND PRECISION FOR ANY APPLICATION.
THE RIGHT SYSTEM FOR ANY TASK.
Whether you're looking for an efficient, cost-effective solution for your municipality, a Truck Equipment Manufacturer (TEM) looking for a rock-solid foundation to build on, or a construction company wanting the toughest in the business, the Diamond Logic® System will get the job done with safety and precision others simply can't match.
DRY VAN
Door open warning light/alarm: can prevent loss of property while driving down the road or theft while vehicle is sitting; this can also prevent temperature loss and cargo spoilage in a refrigerated body
Drive-time hour meter: Records time the vehicle has been driving and in use
Cab and body door locks can be tied together so when the cab door is locked, the body doors are also locked
DUMP
Clogged hydraulic fluid filter indicator
Low hydraulic oil level indicator
Tarp control: Automatically wind and unwind tarp; prevent product loss
FIRE/EMERGENCY
Load management: Prevents discharging of the batteries, turns off lamp loads as battery voltage drops
Redirect siren/horn switch: Depending on the situation, either the city horn or siren can be chosen
Split-shaft water pump control: Automates steps to safely engage water pump system
PLOW
PTO shutdown override momentary switch: Allows operator to override PTO shutdown in order to raise blade
Tarp control: Automatically wind and unwind tarp; prevent product loss
UTILITY
Cabinet lights & body lights can be set to timers to save battery power if the key is off. The set time can be programed by the customer
Low voltage alarm warning: Indicates the battery voltage is dropping and that the operator should start the truck to address it
Wheel chock sensors: These sensors check if the wheel chocks are stowed; reminds drivers to use and re-stow wheel chocks on the job site
REFUSE
Customized automatic packing operation with safety interlocks. The number of times the waste is packed can be changed—1, 2, 3 times, depending on needs of customer
Master body switch power with interlocks: Use of body equipment, PTO, packer, or engine speed are tied into specific safety conditions that must be met
Rear lighting for back-up camera: To increase visibility for camera when it is dark, additional lighting can be added
---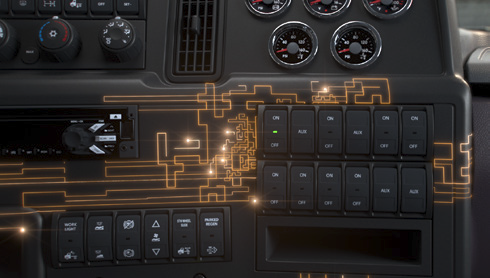 Factory-installed switches with custom labels are used to control integrated equipment. When a reading is out of the programmed operating range Diamond Logic will alert the driver with an audible alarm and a visible LED indication on the switch pack, reducing the potential for costly equipment damage and maximizing uptime