Peterson Idealease
WE ARE LOCALLY OWNED AND OPERATED
Peterson has been in business since 1936. We understand the Northwest. From the constant rain to the rough roads, and the challenges that come with operating here; the Air Resources Board and the BIT Program. We understand your needs and will work quickly to get you the right equipment for your application. We offer comprehensive rental options – Daily, Weekly and Monthly rentals.
---
SAFETY & COMPLIANCE
Peterson has their own training facility where we offer on-going training on CARB compliance, changes in the rules and regulations surrounding the BIT program, how to survive a BIT inspection, etc. We also provide technical training, if you have your own technicians, as well as "Train the Trainer" sessions.
---
WE HAVE THE NEWEST RENTAL FLEET
We have hundreds of rental units and over 80% of the vehicles are 2019/2020 model year. We have everything from 19,500 GVW to 80,000 GVW. All of our 26,000 GVW trucks come with an automatic transmission. We also carry class B trucks 35k GVW. Our customers are all commercial accounts, so our equipment is built for commercial use. Our fleet includes: Class 8 Tractors, Bobtails, Reefers, etc.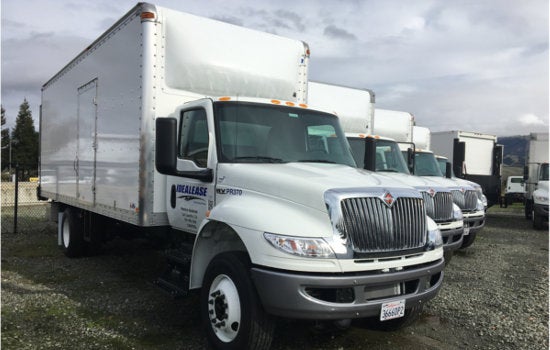 ---
MOBILE SERVICE
All maintenance is included. In California, we have shops in Fortuna, Santa Rosa, San Leandro, and San Martin. In Oregon, we have shops in Portland, Eugene, Albany, Salem, and Redmond.
We also have ten "mobile" shops. These trucks are set up to do almost everything that we do in our shops, including welding and some fabrication. Our technicians are fully trained and highly skilled. They are not merely preventive maintenance providers, they are truly problem-solvers. Remember, there is no need to be located close to us – we will come to you!
---
Idealease Core Values
EXPERTISE | STABILITY | RESPONSIVENESS
Idealease delivers expertise, responsiveness and stability to the truck transportation industry with commercial vehicles spec'd to your needs backed by superior service, all at a predictable cost.
---
Expertise
Idealease has the expertise to create transportation solutions for commercial fleets of all sizes. We employ the most seasoned and tenured truck leasing and truck rental professionals. They can show you how our fleet services and dedicated maintenance can help reduce the risk and costs associated with commercial truck operations and fleet management.
---
Stability
Idealease offers stability for your business because of our unique organization structure . We are a vertically aligned distribution network of more than 430 community-based locations.
---
Responsiveness
For companies across North America who want to manage their business, not their commercial truck fleet management challenges, Idealease offers the most responsive, fully integrated truck leasing, truck rental, fleet services and dedicated maintenance solutions.