If you've got a truck, it's throwing fault codes.
And while not all faults are actionable, many are. As a local dealer, we're here to support your trucking needs for all makes and models. Our free fleet health program allows us to monitor fault codes and determine next steps while the truck is on the road. Save thousands on downtime, tow bills and priority freight with preventive maintenance and advanced part ordering. With Peterson's Uptime Team to support, proactive steps like these are easier and more efficient than ever before.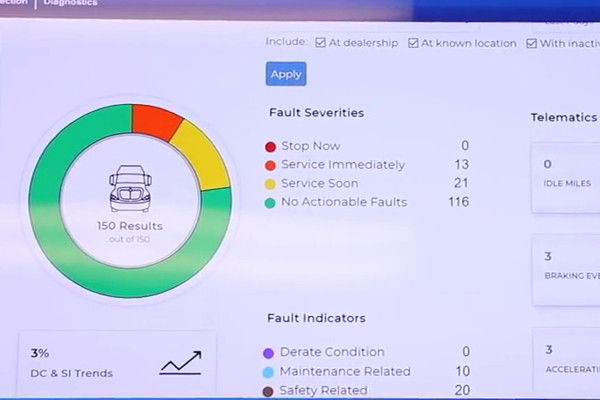 30% Reduction in Costs

Program participants have seen up to a 30% reduction in unscheduled repair costs and 80% reduction in towing events.
We will never upsell or offer a part you don't need.
All part recommendations are based on fault severity and OEM action plans. As a company committed to continuous improvement, we are offering this as a free program to increase our part availability and your service knowledge, bringing relevance and value to customers in all industries.
Auto-ordering Included

Peterson Trucks is auto-ordering parts based on fault severity for all program participants.
Fleets across the country are reaping the benefits of OnCommand Connection and you can too. Thanks to its open platform design, integration with many existing systems is quick and simple. Health reports, fault trends and even support mapping is available, ensuring your team and trucks are being taken care of no matter how far they are from home.
Elevated Recall Service—we are pre-ordering parts, ensuring recall listed parts are available to achieve near 24-hr turnaround.
Auto-Order Parts—Peterson is auto-ordering parts for Stop Now and Service Immediately faults. We are also auto-ordering parts for severe codes less than $500 on International models within five model years.
Custom Auto-Order Parts—set your own custom parameters for parts ordering, outsourcing the legwork involved in identifying and sourcing your own parts.