Introducing the International HX Series. Four tough new models, each engineered to outwork and outlast, hour after demanding hour. The HX Series is designed to endure the most punishing of jobsites, and to look great while doing it. Not to mention providing its driver a spacious, comfortable environment for work, day in and day out. Built to sustain whatever comes its way, and extensively tested to move you to the head of the class.
CONSTRUCTION
Durability, reliability, drivability. To do the job right, you need it all. With the industry's only available 3.5 million RBM 0.5" huck-bolted single rail frame, driver-friendly compact hood and set-forward front axle built to tackle stringent axle weight restrictions with optimal maneuverability, the HX™ Series more than delivers.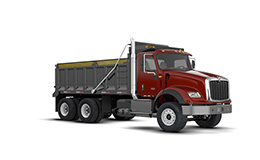 CRANE
Raise your expectations of what a crane truck can be. Featuring a three-piece sloped Metton hood for greater visibility, DriverFirst™-inspired cab suspension, and a seamless point-to-point electrical system for easy operation and adaptability, the HX™ Series sets the bar well beyond the reach of the competition.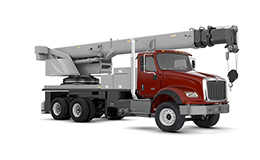 HEAVY HAUL
Whether moving fresh-cut timber, transporting bulk aggregate or hauling heavy equipment, the HX™ Series is built to carry the load. With the relentless power of the Cummins ISX15 and your choice of double reduction or tridem rear axles up to 70,000 lbs., you know you have the muscle for the job.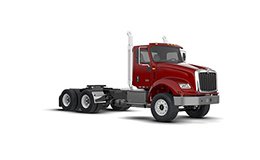 CONCRETE MIXERS
The work doesn't move forward if your job isn't done. That's why for mixer configurations, the HX™ Series with its huck-bolted frame and cross members, asymmetrical front spring packs and big bore diesel engine options has been designed, built and proven to bring day-in, day-out durability and reliability to every worksite.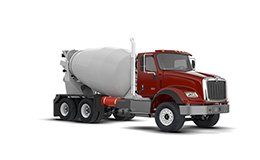 DAY CAB
A spacious, well-equipped cab interior enhances driver productivity, while the DriverFirst™-inspired cab suspension design produces a supremely comfortable and quiet ride - even across the roughest terrains.
Automatic
Allison 4000 Series: RDS, EVS, OFS
Automated Manual
Eaton UltraShift PLUS: 10, 11, 13, 18 speed
Eaton Fuller Advantage: 10 speed
Manual
Eaton Fuller: 10, 11, 13, 15, 18 speed