As a company committed to partnering with nonprofit and charitable organizations in serving the community, Peterson lends a helping hand in a variety of ways. In the past, support has primarily been provided in the form of donations and volunteer efforts. But for those with trucking needs, Peterson Trucks has now prepared several exclusive offerings that are only available to charitable organizations.
Not only will you reap the rewards of unbeatable rates, but you'll also have the added benefit of a knowledgeable staff that can offer suggestions or assist you with questions and concerns. When you choose Peterson, you're not just earning exclusive deals. You're investing in a partner that is dedicated to providing you with support to do more than succeed, but thrive. Together we can go the distance.
Compete this form and upon approval, receive discounts we can only afford to offer to nonprofit organizations.
---
Parts
NATIONAL FLEET PRICING
When you bring your business to Peterson, you gain access to exclusive national fleet pricing on parts. This offer is only available for nonprofits and guarantees the lowest pricing on the highest quality of product. So whether you're picking up donated clothes or delivering food, choose Peterson to be your parts supplier.
Service
20% OFF ALL LABOR
Keeping maintenance costs down is a struggle for any organization. At Peterson, we want to help you manage these expenses. With Peterson's exclusive nonprofit offering, you'll get 20% off of all labor performed in our shops, making truck service more affordable to help you succeed.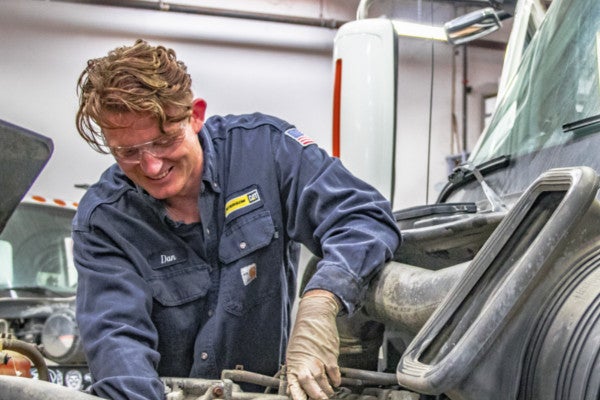 ---
Peterson Uptime Command Center
Peterson's team of experts will monitor your fleet, sift through the minor codes, and alert you when a severe fault occurs. Streamline your service visits by working with our team to prioritize which repairs are needed, before they take your truck out of service. The Peterson Uptime Command Center is just one aspect of Peterson's technology suite that keeps you running.
Check out Peterson's Uptime Command Center for yourself at our San Leandro, California and Portland, Oregon locations!
Trainings and Seminars
Stay up to date with our comprehensive Safety Seminars or brush up on your parts knowledge with our Customer Care training. Don't stop there! We also offer management training to help your people build the skills they need to be effective, authentic leaders. Check out www.petersontrucks.com/events and www.petersontrucks.com/leadership to sign up or to see upcoming training.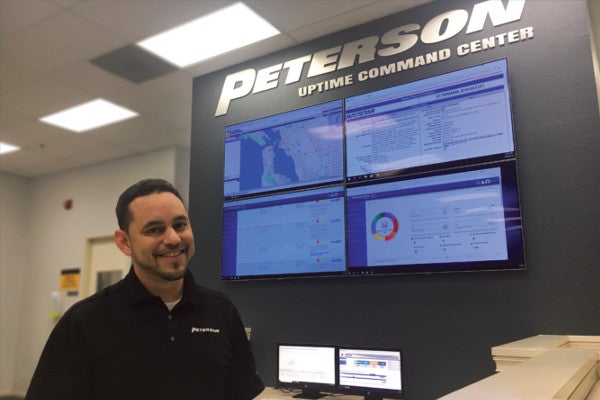 ---
Rental
10% OFF DAILY RENTALS
Peterson Idealease understands the importance of having access to rental trucks during emergencies, breakdowns, repairs, or when additional vehicles are needed to handle short-term peaks in demand. So rental terms have been specifically tailored to meet these inevitable inconveniences. Whether your rental needs are for one day or for several months at a time, Idealease has a special fleet of trucks set aside for your business necessities.
Lease
1% REBATE ON FULL SERVICE LEASE
A full-service lease with Idealease allows you to enjoy all of the benefits of ownership, with none of the headaches. Truck leasing can help improve cash flow and increase productivity by giving you the ability to focus on your business while Idealease manages all of your maintenance. Conserve capital and address specific balance sheet and tax issues with a stress-free lease. There is no deposit up front. And at the end of the term, full service lease customers simply return the vehicle to Idealease without concerning themselves with disposal or residual exposure.
---
---
Mobile Service
Whether your truck makes a planned visit to our shop or an unexpected halt on the side of the road, you have peace of mind knowing that Idealease will take care of you wherever you are. Our state-of-the-art mobile service trucks are operated by highly trained technicians who are ready for anything. These techs are on the road every day, performing scheduled maintenance at customer locations and getting equipment back on the road should a breakdown occur.
With a dedicated team on call 24 hours a day, 7 days a week, you can be confident that your business will spend less on downtime and challenges.
Idealease Priority Service keeps your trucks on the road and out of the shop! That's what sets Peterson Idealease apart from the rest.
Located to Serve You!
Peterson Trucks has nine conveniently located stores throughout Northern California and Oregon, each offering sales, parts, service, leasing, and rental. Our stores are located near major highways, making it easier to get your truck in and out. Visit us today to see how we can be your partner for all your trucking needs.